Ledn Inc. ("Ledn") provides credit and savings products that help people save in bitcoin. Its first product, bitcoin-backed loans, offers the best rates and simplest application process on the market and is designed to help investors 'hodl' their bitcoin. Applying for a Ledn loan is easy, does not affect your credit score and requires only bitcoin as collateral. Bitcoin is held securely in BitGo Trust Company's insured facility throughout the loan, and borrowers retain all benefits from any appreciation in the value of their asset. Additionally, the bitcoin collateral is never commingled with other assets and provides real-time proof-of-reserves – the ability to check that the asset has not been moved from its vault.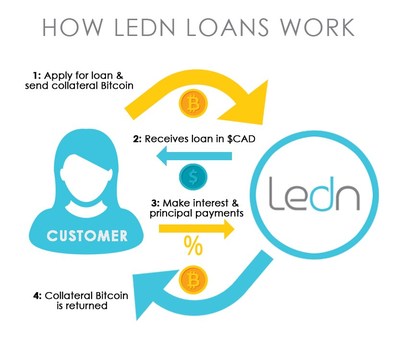 Markets Insider Press Release
Ledn Inc. closes $1.55 million seed financing to launch Canada's first Bitcoin-back lending platform
The financing round was led by Andrew Clark, and Someren Capital, with Clark joining Ledn's board of advisors. "Ledn solves an essential problem related to the adoption of digital currencies – it provides liquidity to cryptocurrency investors with a long-term view of their holdings," said Clark, who co-founded and is Co-CEO of Spark Power Group Inc., which recently listed on the Toronto Stock Exchange.  "With an estimated CAD $15 billion in Bitcoin held by Canadians, this is a tremendous opportunity. Ledn has assembled an excellent team with the right mix of industry experience to deliver a world-class product."
As the first and only company to publicly announce Bitcoin-backed loans in Canadian dollars, Ledn is quickly ramping up its operations to keep up with demand. "We are very excited to introduce Bitcoin-backed loans to the Canadian market and are thrilled by the support that we have received from our seed investors," said Adam Reeds, Co-Founder and Chief Executive Officer of Ledn. "Our goal is to offer the best rates and simplest experience to the Bitcoin community."
Ledn's management team is made up of seasoned professionals which come from Canada's leading asset management, banking, energy and real estate companies. The platform is being developed by a team of engineers with experience working in Canada's tier one banks. The Company has also invested heavily on legal and compliance procedures to ensure that it is able to service clients across Canada and expand geographically in the near future.  Ledn plans to launch a new website application this fall that will streamline and simplify the loan process for clients.
"Canada has played an instrumental role in the growth of Bitcoin and other cryptoassets," said Mauricio Di Bartolomeo, Co-Founder and Chief Strategy Officer. "We are eager to contribute back to our community by pioneering this service in Canada. As long-time users of Bitcoin, we understand the need for liquidity that can leverage, and not liquidate, your digital asset holdings."

PR Newswire – September 11, 2018 4:50 pm